Restaurants
---
Here are some of our favorite places to eat while in town along with a few comments. Scroll to the bottom of the page to find links to additional reviews for many of the restaurants in Mammoth.
Skadi
Restaurant Skadi is one of our high-end favorite places to eat in town .. a place we'll often pick for a special night out or celebration. The interior is simple, elegant, and casual. During the summer, we never miss "burger Sundays", where you can get the best burger in town.
Skadi website
Perrys
Perrys Italian Cafe is our choice for italian food in town. Under new ownership since mid-2009, we believe the food has improved considerably, and we'll be there at least once during our visits. In addition to a variety of standard italian dishes, the pizzas are on the better end of what can be found aroud town. Favorite dishes are the four cheese baked ziti, and cioppino.
New York Bagel
Old New York Bagel is Larry's choice for breakfast during morning walks. The bagels are the best in Mammoth. They also have a good selection of standard breakfast and lunch fare .. (but we haven't sampled much beyond the bagels). Located in the Village it can get quite crowded, especially in the mornings as people are getting ready for a day on the slopes, so plan accordingly.
Old New York Deli website
Good Life Cafe

The Good Life Cafe is hands down our favorite lunch spot in Mammoth, as well as a favorite of the locals. We recommend it highly. With a variety of great salads, sandwiches, lunch entrees, and several Mexican specialities, it is a place we'll hit several times while in town. When the weather warms the patio is a nice place to hang out and enjoy a great lunch. (Don't miss the homemade chips and salsa!) Be sure to add the Good Life to your list of places to be sure to stop at during your visit. (Great for breakfast too!)
Good Life website
Robertos Cafe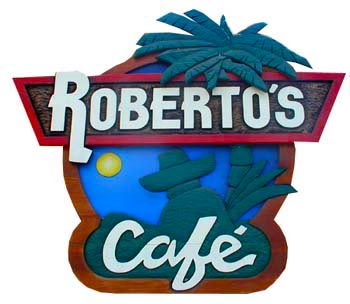 Robertos Cafe is the place to go for Mexican food in town .. another favorite hangout of the locals for lunch or dinner. They have the standard offering of typical Mexican fare, always prepared fresh, and served promptly. A favorite of ours is the chicken soup, the best we've ever found. The shrimp tacos are also particularly tasty.
Be prepared however for a possible significant wait, especially around holiday times during ski season, or on Friday or Saturday evenings. (They do not accept reservations, and we've encountered wait times well over an hour). They do however have an upstairs bar / lounge / restaurant area which also functions as a sports bar during events, so take a table there if you can find one and hang out. Fortunately, they also offer the full menu there if you just can't wait to be seated in the downstairs dining area.
Robertos website
( Look for additional reviews to be added here .. )
---
In addition to the above descriptions, here are links to a few popular review sites you can also visit to peruse your various dining options while in Mammoth.