Webcam Technical Information
---
Webcam images are provided by a high-resolution StarDot Technologies NetCam SC series IP camera. Detailed information on this camera can be found here.
Additional technical details related to our particular camera, installation and configuration -
Resolution:
Lens:
Image setting:
Power:
5 MP (maximum available resolution)
4.5 - 10mm, variable focus
1296 x 960 (current resolution setting)
Power over Ethernet (PoE); single cable
The camera is currently configured to upload (FTP) an image to the web server every 15 minutes during normal daylight hours. A "live" image is also available by connecting directly to the camera (which also functions as a self-contained web server). This image is updated more frequently, approximately every 10-15 seconds. Due to internet provider bandwidth limitations out of Mammoth however, it is not possible to provide a live video feed. The tradeoff was made to provide a high-quality, high-resolution image at the expense of the slower refresh rate.
A few pictures of the camera in its roof-mounted, weatherproof enclosure are shown below -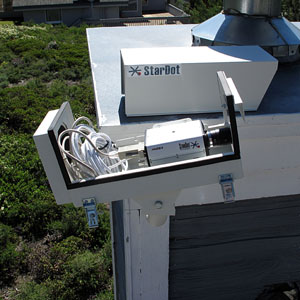 The decision was made to utilize a fixed mount for installation vs. a pan-tilt-zoom (PTZ) configuration which would have enabled repositioning of the camera under user control. It was thought the severe winter environmental conditions the camera is often exposed to would quite likely compromise the mechanical integrity of the mechanisms used to move a PTZ style mount. The camera has operated flawlessly and maintenance free since it's mid-2010 installation, so the choice of camera and installation method have proven to be very good decisions for this application.